Prima Performance
Every PDAZ student is welcome to join Prima Performance! Our in-house performing group is open to dancers ages 5-18. In addition to opening the Winter Performance and Spring Recital, dancers have additional performing opportunities in the community throughout the year. Past performances include Diamondbacks Dance Day, the Arizona State Fair, Carefree Holiday and Daisy Mountain Veteran's Day Parades, and the Phoenix Suns pre-game show.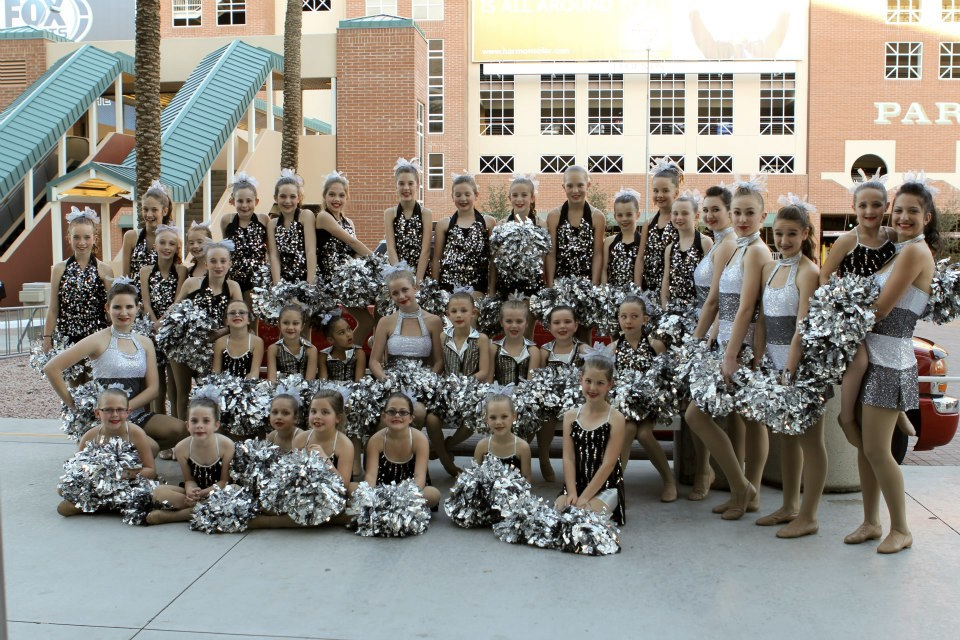 Prima Performance -- Frequently Asked Questions
How is the team organized?
Prima Performance is separated into 4 or 5 different rehearsal groups by age and level. Dancers spend weekly rehearsals learning and practicing choreography with their level. Before every performance, group rehearsals are called so that all dancers can rehearse at the same time. The number of rehearsal groups varies depending on the number of participants in each group during any given year.
What are the class requirements?
Weekly Monday class rehearsals and the following additional class requirements, per level:
Rubies:           Level 1 Ballet and/or Jazz or Combo
Sapphires:     Ballet and Jazz
Emeralds:      Ballet, Jazz, and Lyrical
Pearls:            Ballet, Jazz, and Lyrical
Diamonds:     Ballet, Jazz, and Lyrical
What is the time commitment?
Weekly rehearsals are 45 minutes every Monday. Group rehearsals are called several times a year and last between 1-1.5 hours. In addition to the Winter Show and Spring Recital, Prima Performance dancers are expected to perform at designated events, usually two-three per school year.
What is the cost?
Prima Performance rehearsals are charged as tuition. The cost of the class is dependent on the number of other classes your child takes, since the rate per class decreases as the number of classes increases. We will be happy to look at your child's estimated class load see what the added class will cost.  Rehearsals are included with unlimited tuition rates.
Prima Performance dancers will wear 2-3 costumes per school year, averaging $60 each. Tights, shoes, and practicewear are purchased from the studio.
Event tickets range per event/venue; we secure discount group tickets from the venues when possible.
How do we join?
Prima Performance is open to all PDAZ dancers ages 5 and up. In order to place dancers at the correct level, we hold auditions the previous spring. Auditions for the 2019-2020 season will be on Monday, April 8, 2019. If you would like to join us, but have missed the audition, please contact the front desk to schedule a placement class.
We are happy to answer any additional questions you may have!